Kentucky's Premier Rock Climbing Guide Service, based in the Red River Gorge.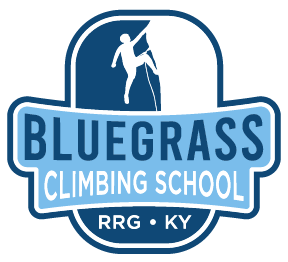 Red River Gorge, KY Guided Rock Climbing
Bluegrass Climbing School is a locally owned and operated climbing guide service, based in the heart of Red River Gorge, Kentucky. We specialize in providing customized guided climbing experiences for climbers of all skill and ability levels; ranging from complete beginners to seasoned pros. We offer top notch programming, designed to take your climbing to the next level.
We are passionate about climbing, we do it because we love it. We would love to share our passion with you!
We pride ourselves on providing a high quality, safe, and hassle free experience for our guests. Our guides are certified by the American Mountain Guides Association and hold Wilderness Medical Certification for the terrain they work in. 

Bluegrass Climbing School takes pride in offering the highest quality instruction and experiences available by only employing AMGA certified instructors with proper Wilderness Medical Training, ensuring your outing is both safe and enjoyable.
Red River Gorge Guided Climbing and Private Course Rates
Half Day Guided Climbing
*All Pricing Listed as Per Person
1 Person - $165

2 People - $130 

3 People - $110

4 People - $95

5 People - $85

6 People - $80

Ask us about pricing for larger groups!
Full Day Guided Climbing
*All Pricing Listed As Per Person
Full Day Trips 6-8 Hours.
1 Person - $225

2 People - $ 170

3 People - $145 

4 People - $125

5 People - $115

6 People - $100

Ask us about pricing for larger groups.
Safety: Our guides have undergone extensive training and testing in technical and safety skills. They are trained to manage risk and make sound decisions to ensure your safety. In addition, all of our guides are trained in Wilderness Medicine and hold certifications as Wilderness First Responders.
Training: We choose to only staff AMGA (American Mountain Guide Association) certified climbing guides. AMGA certification is a rigorous process that requires extensive experience and technical knowledge. Certified guides and instructors have demonstrated proficiency in technical systems, climbing ability, and professionalism. This expertise allows them to provide our clients with most cutting edge knowledge so you have the very best experience.
Expertise: We pride ourselves on our vast knowledge of the climbing areas we operate. In addition to our expertise on climbing routes  we find the flora, fauna, and history of the areas we guide in fascinating as well.  Many of our guides boast first ascents in the areas we climb!
Professionalism: AMGA certification requires guides to adhere to a code of ethics and professional standards. This means that they are committed to providing a high level of service, respecting the environment, and treating clients with respect and integrity.
Customized Experience: Our guides can tailor their services to meet your specific needs and goals. We enjoy helping clients meets their goals and ambitions, whether that's choosing the best routes based on your experience level, or by providing technical instructional and guidance  to help you reach the next step in your climbing journey.
Community: By hiring one of our guides, you are supporting our local community. We pride ourselves on being excellent stewards of the areas we operate in. Over the years, we've spent countless hours doing trail work, cleanups, and performing maintenance on hardware to keep the routes we climb on safe for everyone to enjoy.
Follow us on Social Media