We thought we'd take a break from climbing and talk about our favorites places in Red River Gorge to eat, and have a beer, and hang out with friends! Hope you enjoy our picks!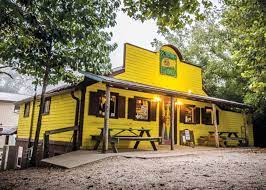 Not a lot needs said about this one, Miguel's Pizza is the center of the Red River Gorge Climbing Universe. Since as early as 1984, long before the Red River Gorge was known as the world class climbing destination, Miguel started serving up food to hungry climbers, it has been an oasis for climbers ever since. As the climbing community grew, so too did Miguel's which now offers more than just pizza, including delicious sandwiches, bowls, salads and an excellent breakfast menu. As well as a great selection of ice cold beer and Margaritas.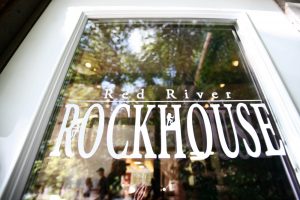 Located on KY 11, 4 miles past Miguels, the Red River Rockhouse is an eclectic cafe serving up Burritos, Tacos, Burgers, and Salads made with fresh ingredients and staffed by climbers. The Rockhouse is a popular choice amongst local climbers, we recommend coming early for dinner or good luck getting a table on busy weekends. Nonetheless we find the food always comes out fast no matter how busy they are. Their Barbacoa, Carnitas, and Tempeh burritos are the best around.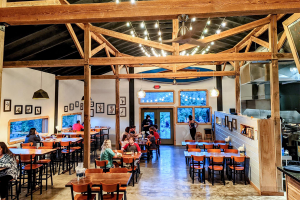 Redpoint is a well hidden gem! Located near Muir Valley in Rogers, KY, you may find yourself wondering where the heck you're going as you head back a gravel road to nowhere, but not to worry, a short time later you'll find yourself at one of the RRG's best kept secrets, in a stunning setting. This climber owned eatery takes a unique approach to classic southern dishes and ranks up there as one of our favorite restaurants in the area, add to that a full bar with the best cocktails around and you're not going to want to miss this one!
A bar and restaurant located in Pine Ridge, KY at the Southeastern entrance to the Daniel Boone National Forest, and minutes away from the Muir Valley climbing area. Sky Bridge is best known for their excellent selection of local draft beer and Kentucky Bourbon as well their enormous burgers made with locally sourced beef. Other menu items include quesadillas and gourmet hot dogs. Sky Bridge is known for live music on Friday and Saturday nights and hosting a Team Trivia on Tuesday nights.
Hop's
Hop's is an outdoor beer garden, located 4.5 miles south of Miguel's on KY 11 sharing the parking lot with the Graining Fork Nature Preserve (Roadside Crag) and the Zoo climbing areas. They serve a rotating menu ranging from pub classics to healthier food fare and have the best selection of canned, bottled, and tap beer in the gorge. Beer can be bought to drink on the outdoor patio or to go. The owner of Hop's also manages the Graining Fork Nature Preserve and graciously allows those climbing at the Roadside Crag and Zoo areas to park there, please show your appreciation by patronizing them with your business when climbing at these areas.
Located on KY 11 just south of the Shell gas station in Slade, the Daniel Boone is the best place to grab a cup of coffee in the Red. They also offer breakfast sandwiches and lunch and have an excellent selection of shakes smoothies in addition to their selection of hot drinks. Customers are welcome to hang out and use the free wifi.
Located just south of the PMRP in the town of Beattyville. The Choclat Inn is a hip café with delicious, pastries, desserts, and a rotating menu of house specials.
Other options in Slade, KY include the La Cabana Mexican Restaurant, Thatcher's Barbecue Company (Formerly Red River Smokehouse), and the Buffet and Restaurant at the Natural Bridge State Resort Park Lodge. Additional options for fast food, coffee shops, and restaurants exist in the nearby towns of Stanton, Campton, and Beattyville, which also happen to be the nearest towns to find groceries and other supplies.
Groceries
Most will find a good selection of groceries at the Kroger in Stanton, while picky eaters can find more variety (Trader Joes, Whole Foods) in Lexington, about an hours drive away. For quick trips the Save-a-lot in Campton and the IGA in Beattyville stock all the basics.